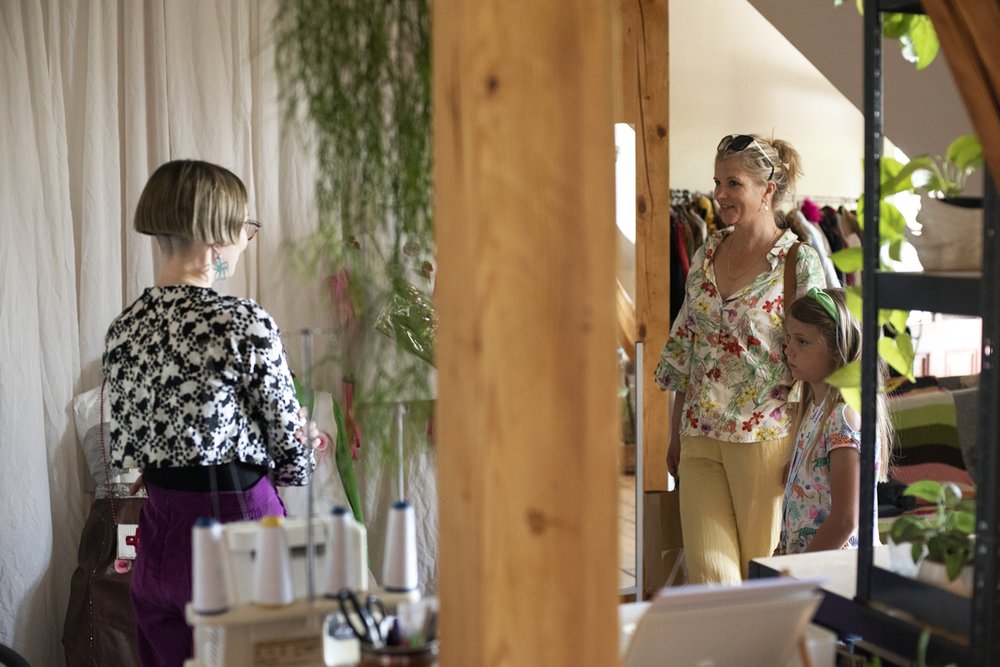 Photo: Katja Goljat. MGLC Archive.
In the following lines, we have put together some ideas on how you can make the most of your time with us and what you can do before, during and after seeing an exhibition.
---
More than just a Visit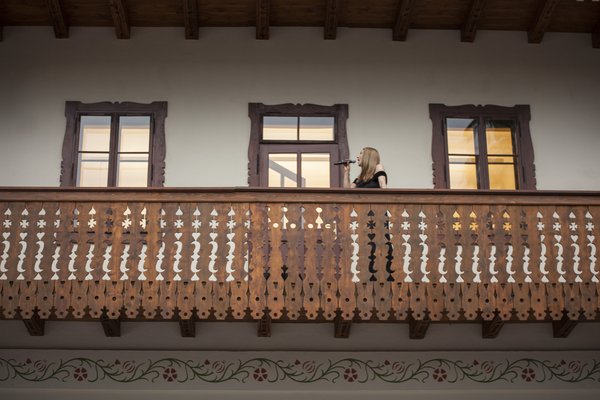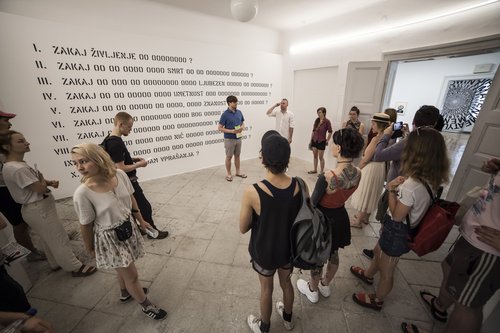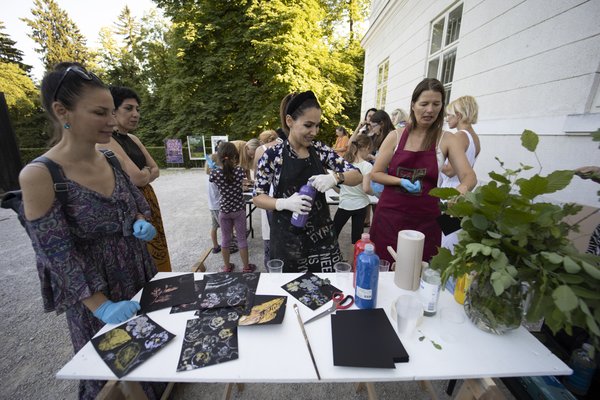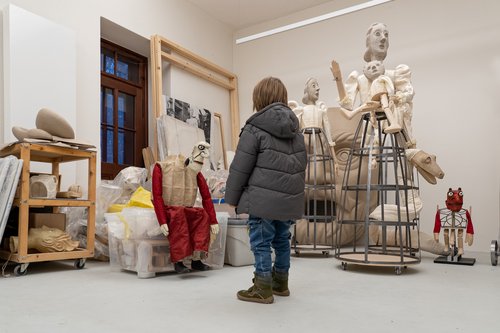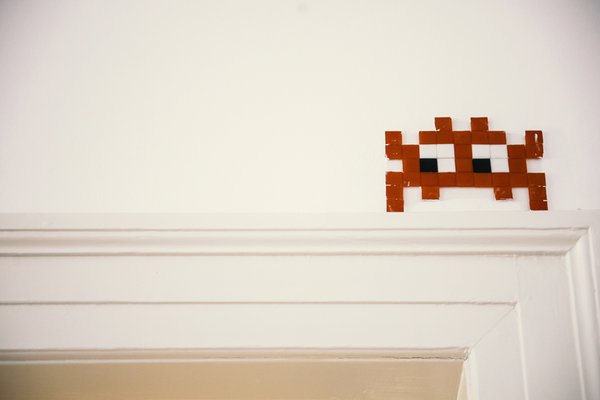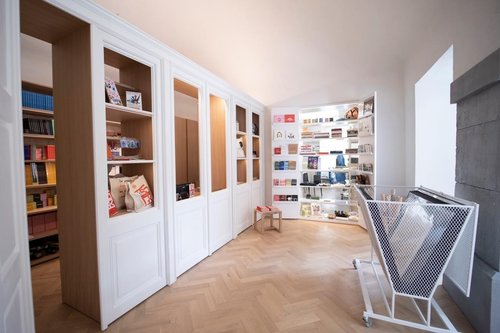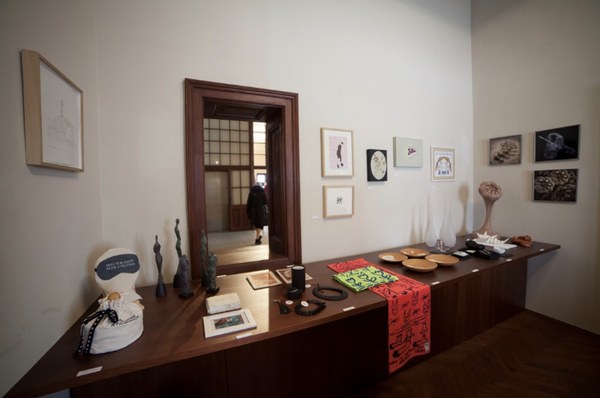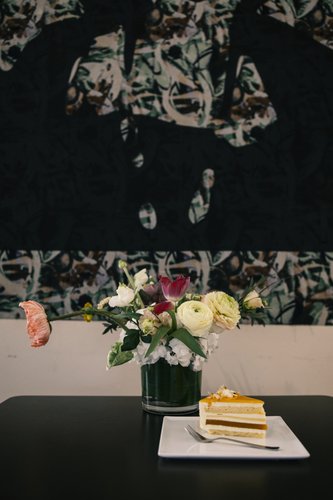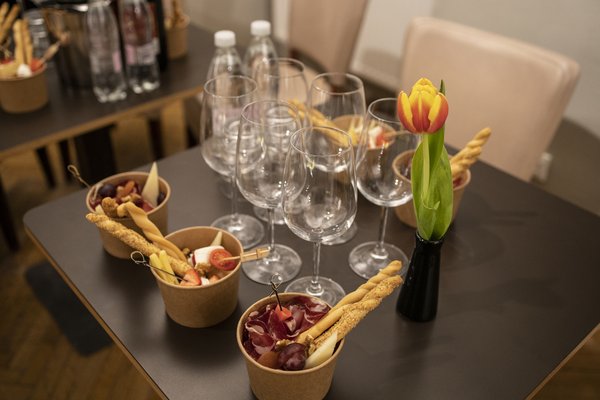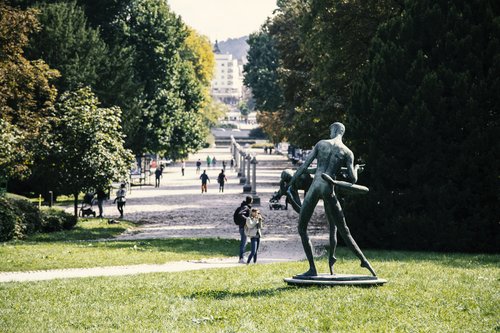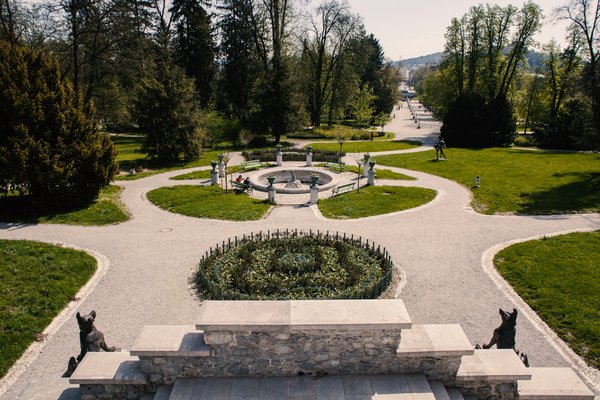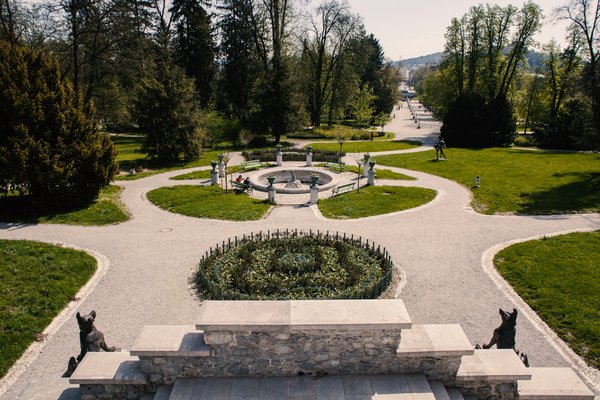 Friend of the Biennale Club
Become our member and visit exhibitions free of charge all year round. Guided tours, workshops and excursions are also available, along with other benefits and discounts for purchases in the museum shop at Tivoli Mansion. We cannot wait to meet you!
Summer in Tivoli
Long summer days call for summer activities and hanging out in the park. July now traditionally marks the start of our colourful summer cultural events. The focus is on singer-songwriters' performances, presentations of musical styles from all over in front of Tivoli Mansion that follow guided tours of the current exhibition. Švicarija is a place showcasing local artists and bands that are currently among the most important representatives of the unconventional genres of contemporary music. The additional programme varies slightly from year to year; in previous years we organised graphic arts workshops for children and adults, film nights Films in the Forest and a Library under the Treetops. Have we mentioned that all events are free of charge?
Doors Open Days
Our Doors Open Days do not only bring free admission but also many interesting events, so save the following dates and celebrate with us.
May and the changing autumn term; twice a year we open the doors of studios in Švicarija
8 February, Slovenian Cultural Holiday
18 May, International Museum Day
third Saturday in June, summer museum night
3 December, This Merry Day of Culture
For families
15-22 May, Family Week, Free for Families campaign
Second week of October, Children's Week, Heritage Through Play campaign
For students
First week of March, ŠOU Ljubljana Culture Month, doors open week of museums and galleries for students
Summer Museum Night
Summer Museum Night, which takes place every third Saturday in June, is the largest national promotional campaign of Slovenian museums and galleries, joined by many other institutions running programmes in cultural heritage, art, culture and history. The initiator of the project, Lili Šturm, Museum Adviser at the MGLC, first coordinated it in 2003 and from the very beginning conceived it to present institutions and their contents as places of casual pastime. The well-attended event, which today brings together some 40 cities, 80 institutions and 200 events, was coordinated by the MGLC under the auspices of the Slovenian Museum Association until 2012. In 2013, Lili Šturm received the Valvasor Honorary Award for the establishment and management of the Summer Museum Night.
Guided tour of exhibitions
If you would like to see an exhibition in the company of an expert guide, please follow our exhibition events. The dates and times are set for each individual exhibition.
Guided tours of exhibitions are available for organised groups on prior arrangement. Bookings for guided tours or workshops must be made at least five days in advance. Contact: Lili Šturm, lili.sturm@mglc-lj.si or +386 (0)1 241 38 18.
Let's Explore the MGLC
Invader's wall mosaics
To be found on the walls of Tivoli Mansion are ceramic mosaics inspired by iconic 1970s computer games and pixel aesthetics. The mosaics are the work of street artist Invader, who has become something of a worldwide phenomenon. His actions and installations made of mosaic stones have often embarrassed established institutions and museums as well as entire cities – and he has also left his mark on Ljubljana.
The mosaics can be viewed from Tuesday to Friday at 2 pm or by appointment (trgovina@mglc-lj.si or +386 (0)1 241 38 12), as most of the mosaics are not freely accessible. We will be happy to show them to you!
Let's Explore the MGLC
For the enthusiastic and curious primary school pupils and their parents or educators, Mr Squirrel, a creative creature from the Tivoli park, explains everything about the MGLC, graphic arts, exhibitions, workshops and much more. The booklet with quirky illustrations by Jure Engelsberger is available free of charge at the MGLC Info Point – just ask our staff.
Art in Tivoli Park
The publications in the Art in Tivoli Park collection are an invitation to a special experience. They are designed for you to discover a cultural heritage that is guided by community, art and nature.
Švicarija: A Guide for Children and Families
With the help of three mice – C(ommunity), A(rt), N(ature) – children aged 3 to 8 and their adult companions can explore the Švicarija building in Slovenian or English, with special tasks awaiting in secret corners.
Family Folder
An animated guided tour of the exhibition in the MGLC Gallery in Slovenian and English is available free of charge for some exhibitions with the purchase of a family ticket. Ask for a folder at the Info Point for an even more interesting tour of the exhibition.
MGLC Shop
MGLC Shop in Tivoli Mansion
Find inspiration to freshen up your home or office, an idea for creative leisure activities, an original gift for loved ones or something to remind you of your visit to our museum. In our small but cosy shop, we are particularly proud of our original prints by Slovenian artists and the publications published by our house. Members of the Friend of the Biennale Club get 30% off the purchase of our own publications and 15% off art prints from our production. You may visit the museum shop even if you do not plan to see an exhibition.
Open: Tuesday to Sunday, 10 am to 6 pm
Contact: +386 (0)1 241 38 12, trgovina@mglc-lj.si.
MGLC Shop in Švicarija
Our other shop is on the ground floor of Švicarija. Just as the building is enriched by many stories, the shop sells objects with their own stories. The products will nostalgically transport you to another time, give you a feeling of homeliness and remind you of the beautiful Slovenian tradition. In addition to home and leisure products, you will also find original art objects. Some of the artists create in the immediate vicinity – Švicarija's art residencies.
Open: Tuesday to Sunday, 10 am to 6 pm
Contact: +386 (0)1 235 53 80 trgovina@mglc-lj.si.
Renting premises
For your next event, invite your guests to a special place near the centre of Ljubljana – the popular Tivoli Park. The beautiful blend of nature and cultural heritage offers an inspiring setting for various types of gatherings, both for personal celebrations and weddings, and for various business occasions.
Cafes and restaurants
Biennale Caffe
Whether you are just strolling through the park or visiting the latest exhibition, a stop at the café on the ground floor of Tivoli Mansion, with its summer garden and one of the best views in Ljubljana, is always a good idea. Indulge in refreshing drinks and delicious desserts such as biscuits, broken chocolate or homemade ice cream. You can toast with a glass of wine made by Slovenian winemakers or a refreshing cocktail.

The café is open from 10 am to 6 pm on weekdays and from 9 am to 6 pm on weekends.
Contact: +386 (0)1 241 38 22 https://www.kaval-group.si/caffe-bienale.
Children's Playground
During the warmer months, you and your little ones can visit the fenced outdoor playground next to the café.
Breakfast with Art
During the exhibitions you can enjoy breakfast (coffee or natural juice and croissant/coffee or natural juice and toast) in the Caffe Bienale on Sundays from 10 AM to 12 noon and take a look at the current exhibition in the MGLC Gallery.
Price (breakfast and ticket): EUR 7
The price includes entrance fee and breakfast. You pay the entrance fee at the MGLC Info Point and, with your receipt, breakfast is served in the café after paying the balance.
Bistro Švicarija
The imposing building sheltered by the forest has always been a favourite meeting place for Ljubljana residents, who came there for breakfast, coffee and a slice of bourgeois bohemianism. If you fancy a coffee, breakfast or lunch during your visit, the bistro will welcome you. It is also the place for culinary and wine lovers who expect only the best from their gastronomic experience. The traditional Sunday lunch with veal shank is offered throughout the year, and the Saturday Ljubljana lunch with rustic feast is also available in autumn and winter.
Opening hours are Tuesday to Sunday, 10 am to 6 pm in winter and 10 am to 8 pm in summer. Contact: +386 31 705 170, www.bistro-svicarija.si.
Enjoy nature, cultural heritage and view
We are located at the Tivoli, Rožnik and Šišenski hrib Landscape Park, the most visited park in Slovenia. Nature itself, which changes with the seasons, will provide peace and a break from the daily routine, and the park offers many recreational opportunities and is a popular spot for city walkers and joggers. When you stop, you can admire the city centre from another perspective. If you look into the distance, you will quickly spot Ljubljana Castle. The best views are from the castle courtyard, the gallery in Tivoli Mansion and the Švicarija garden. The park is also rich in cultural heritage, with numerous statues alongside historic buildings. In the immediate vicinity of Tivoli Mansion, discover a statue dedicated to Zoran Kržišnik, the long-time head of the Ljubljana Biennale of Graphic Arts and the initiator of our centre, a sculpture of the Austro-Hungarian Field Marshal Joseph Radetzky, and four bronze dogs guarding the castle staircase.
We invite you to join us for a special experience with the publications from the Art in Tivoli Park collection (The Secret Life of Sculptures, The Secret Life of the Stojan Batič Memorial Studio, The Secret Life of Švicarija) designed to help you discover for yourself a cultural heritage under the motto community, art and nature.
MGLC and Partners
KUL Card
Discover the most KUL Card (link to the card in the education section), which offers its holders a kaleidoscope of diverse artistic productions – from theatre to film, music and visual arts. You may get the card in the advertised time slot at the Ljubljana Puppet Theatre box office.
Young people (25–25 years): EUR 25
The Moustache Tour
Three great moustache-sporting men – Jože Plečnik, Ivan Cankar and Rihard Jakopič – and a guide hold the key to Ljubljana's secrets, which they share with you on an unusual tour. Cycle through the most beautiful streets and experience the lifestyles of the Architect, the Writer and the Painter. The tour also includes a surprise in the MGLC Graphic Studio.
The tour runs from 1 April to 30 September every Friday at 3 pm and lasts 3.5 hours. Organiser and applications: Ljubljana Tourism
Price: EUR 45
Stories of Ljubljana's Castles
Awaken your adventurous spirit and visit four Ljubljana's castles – Tivoli Mansion, Ljubljana Castle, Fužine Castle and Cekin Mansion – with a single ticket. Tickets can be purchased at the ticket offices of the individual castles and at Ljubljana Tourist Information Centres.
Children up to 7 years: EUR 7
Adults: EUR 11
Pensioners, secondary school and university students and groups of more than 15 persons: EUR 5.50