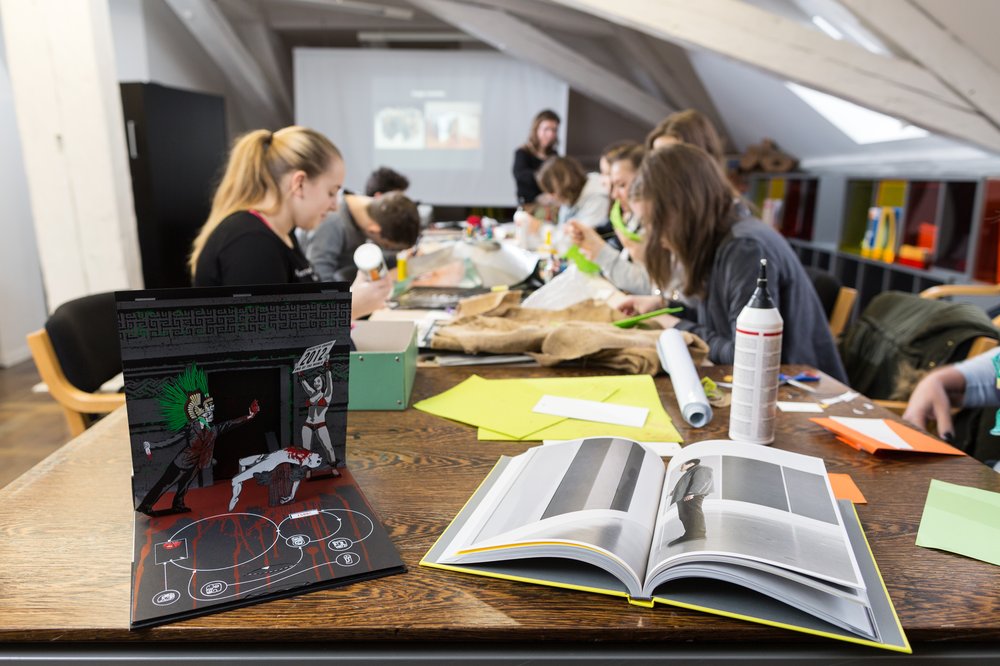 Photo: Jaka Babnik. MGLC Archive.
The MGLC offers educational programmes tailored to different age groups. They are related to exhibitions, artists, collections, the Ljubljana Graphic Biennial and the mission of art for everyone.
We develop openness to different ways of visual expression, encourage a critical and analytical view, open the way into the artist's way of thinking, feeling about the works, and suggest how to use these feelings to understand the current world. Our activities are based on the concepts of accessibility, commitment and connecting.
Educational activities are designed by curators-educators, artists, graphic artists and art educators. They can also be adapted for the sensory and mobility impaired on request.
---
---
Programmes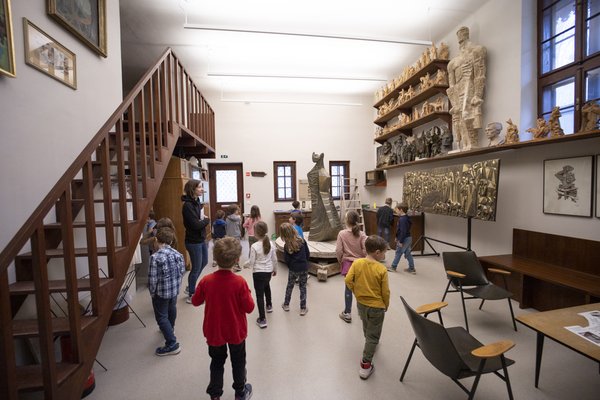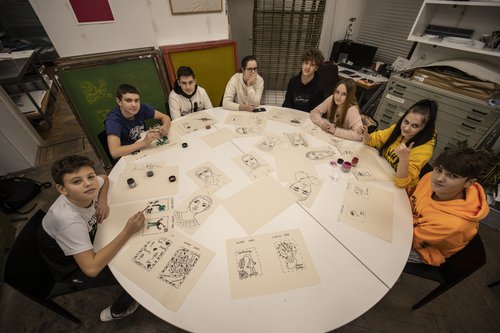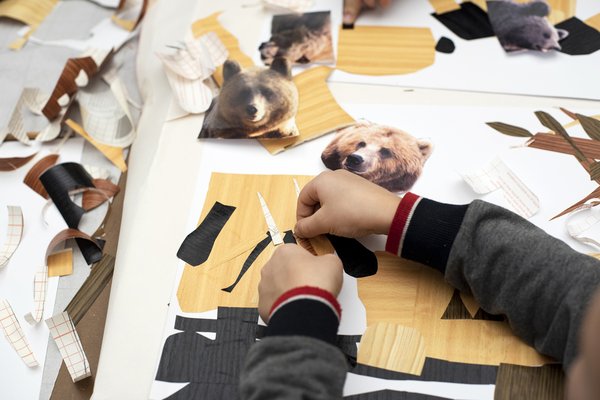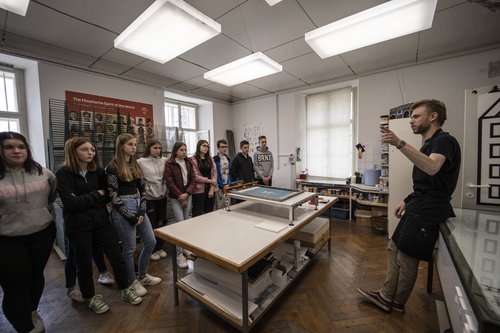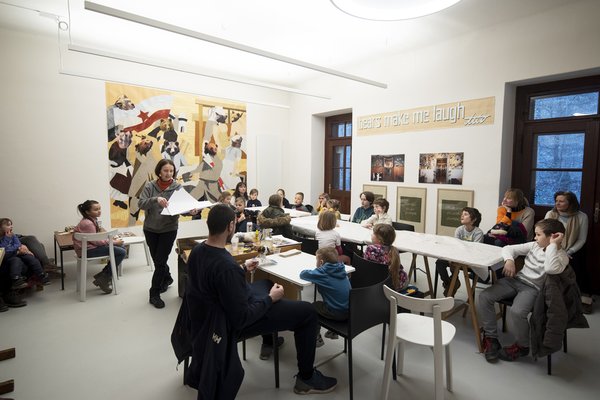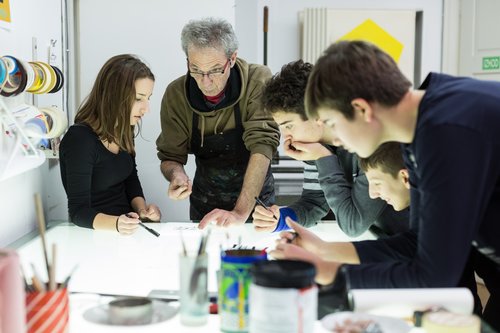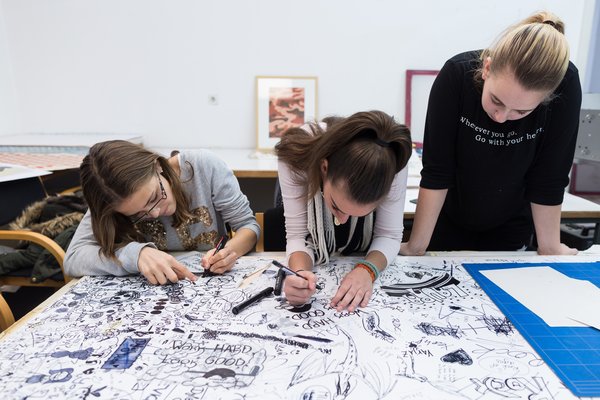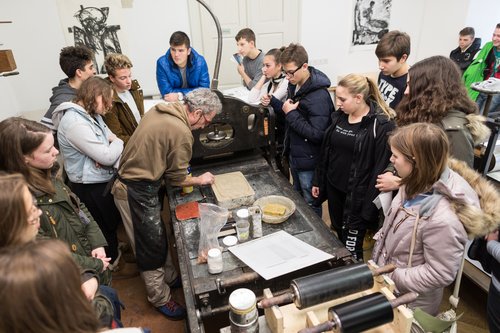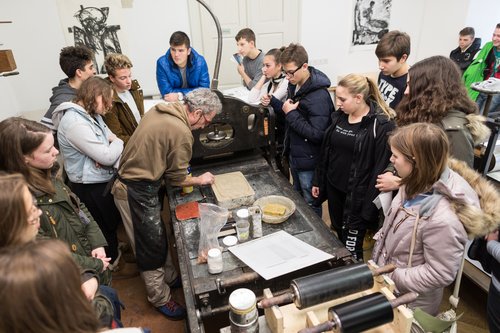 Tours
We organise guided tours of contemporary visual and graphic art exhibitions tailored to different age groups. The tours are supplemented with worksheets, a short workshop, an animation game or a graphic demonstration.
Duration: 45–90 min
Entrance fee (guidance included): EUR 2.50
Popular combination: exhibition tour and printmaking demonstration: 90 min, EUR 3.50
Our hint: Art Day in the MGLC, multi-hour programme of tours and workshops by prior arrangement: EUR 6.50
Demonstrations
We present our print studio and demonstrate a technique of your choice. Demonstrations provide an insight into the process of creating art prints and are an indispensable complement to school lessons. They are recommended for the second and third triads of primary school and for secondary school. They are held in the MGLC Print Studio in Tivoli Castle under the mentorship of a master printer or guest artist.
45 min, EUR 4 / EUR 2.50 for school groups
Popular combination: exhibition tour and demonstration: 90 min, EUR 3.50
Art day at the MGLC
The multi-hour programme includes a tour of the exhibitions and activities; the duration is set by prior arrangement. Appropriate for school cultural days.
Favourable price and a rich programme: EUR 6.50
Kindergarten day
Tailor-made guided tours, workshops and tours for groups of pre-school children. Duration: 30–90 min.
Free of charge.
Tivoli Tee
An entertaining and informative workshop on screenprinting on a T-shirt. Sketch the design of your choice, prepare it for printing and print it on the T-shirt you bring with you. Tivoli Tee is our most popular workshop, carried out for twenty years.
Note! The workshop can only be held occasionally and only for small organised groups of up to 15 participants.
180 min, EUR 6.50 180 min, 6,50 eur
Artist's book/zine
How can books be tied to visual expression? As MGLC holds an extensive collection of artists' books, the field and some examples from the collection are briefly introduced to begin with. After that, using inventive processes that are linked to the occasional exhibitions or collection, workshop participants make their own visual, several-page long, numbered and signed art publication.
For organised groups.
120 min, EUR 3.50
Story: ... (fill in)
The set design art workshop is tied to the Švicarija heritage and the focus points of exhibitions. We tell our own story by using a scenographic model (concept by Samo Lapajne). It is a great way to learn about perspective and composition, and allows for connections to be made in subject areas encompassing nature, society, history or literature. With adjustments, it is suitable for all age groups.
For organised groups.
120 min, EUR 3.50
Invader: mosaic workshop
The workshop is related to the popular international anonymous artist Invader, who also visited Ljubljana and left behind several of his famous mosaics with motifs of pixels, paintings, films, video games, Rubik's cube, space, etc. After seeing his mosaics at Tivoli Castle, we will create similar works ourselves at the workshop.
For organised groups.
90 min, EUR 3.50
Experimental printmaking programme
Together with the Department of Art Pedagogy at the Faculty of Education (University of Ljubljana), we are developing workshops that enable expression without special equipment, with convenient, accessible and harmless materials and processes, and are also suitable for implementation at school. Workshops are held periodically at scheduled times.
Relief
Sculpture workshop for making clay relief and plaster cast. After a guided tour of the Stojan Batič Memorial Studio, participants create their own shallow relief. The desired motif is impressed into a clay plate. The designing is followed by the preparation for casting in plaster. The size of the cast is 15 x 15 x 4 cm. The final product is a plaster cast that participants can take home with them. The next day when it is completely dry, the product can be sanded, patinated or painted.
Concept: academy-trained sculptor Damijan Kracina
Suitable for: second and third triads of primary school, secondary school, adults
For organised groups (second and third triads of primary school, secondary school, adults)
60 min, EUR 3.50
Community projects
Take part in our community campaigns, because art is power and therapy!
They upgrade the popular creative concept do it yourself into do it together.
During the COVID-19 pandemic, we ran a nationwide Kitch'n Megazine project for schoolchildren. More than 350 schoolchildren responded to the invitation. A publication has been published that shows the spirit of children's and young people's creativity in this uncertain period.
Let's Explore the MGLC
Squirlion, a character created by illustrator Jure Engelsberger, introduces the MGLC and reveals the secrets of printmaking.