Visiting exhibition
Edinburgh Printmakers (Great Britain)
Uprooted Visions is an exhibition of new work assembling a multiplicity of practices and cultural reference points, print processes and ways of experimenting with printmaking. The culmination of a two year project funded by Creative Europe as one of a network of five European print studios sees this large scale exhibition showcase the work of 30 exciting international artists. The established artists selected for the residency programme and Uprooted Visions exhibition have all had their art practices disrupted by the lived experience of migration. For some including Ukrainian artists Wiktor Zwolskyi, Kateryna Svirgunenko, Irynka Gvozdyk, Anastasiia Melnykova-Blidar and Antony Reznik the experience is more recent and others including Zory Shahrokhi , Azad Karim and Amir Zaorin have developed their careers over decades in their new home countries.
Each artist was awarded a non-prescriptive month-long residency to provide space to experiment, explore and work with studio technicians to discover new techniques or develop current projects. Uprooted Visions will include a range of work created in print, textiles, video, sculpture and photography. The artworks reflect a range of responses including those that delve into the concept of home, the enduring experience of war, the mundane, experiential nature of journeying across borders and re-configuring notions of self-identity while other artists have chosen to use their residency time to create artworks linked with different themes.
Uprooted Visions is the culmination of the wider European programme of Studios of Sanctuary residencies. It is part of the EU project In from the Margins led by Edinburgh Printmakers, and it has been possible with the support of the Creative Europe Programme of the European Union and is a collaboration with studio hosts AGA LAB Amsterdam, Cork Printmakers, Funen Printmaking Studio, Odense and International Centre of Graphic Arts, Ljubljana.
Themes explored in the exhibition include: the concept of home; the enduring experience of war; the mundane, experiential nature of moving across borders; and re-configuring notions of self-identity.
Reimagining imagery and technical traditions from ancient civilisations within contemporary visual arts practice is a focus shared in works by Zory Sharokhi (Iran-UK), Diaa Lagan (Syria-Ireland) and Azad Karim (Kurdistan-Slovenia). Zory's etchings combine hard ground etching techniques with traditional Persian copper work, which creates incisions on the plate by directly tapping a metal pen with a hammer. These works depict crows returning to pick through rubble, recalling one of Zory's earliest pieces made in response to the 2003 Iraq invasion. Diaa Lagan's screen-printed imaginary landscapes of oriental architecture have developed from a deconstructed form which is connected by a pattern of repetition to the Arabic work "كيف"-kayefa, translated to English as "how", and reference Sufi cosmology's understanding of the universe as an ornamented whole. Azad Karim's print series Land of Hope draws attention to the vulnerability of cultural tradition in his home country. In these intricate textile works, fragments of images of the tragic destruction of cultural monuments and heritage in the Middle East meet on a symbolic level with his personal experiences.
The mundane, experiential nature of journeying across borders weaves through the works of Ira Gvozdyk (Ukraine-Denmark) and Antony Reznik (Ukraine-Germany). Both artists fled Ukraine in summer 2022. Ira travelled to Germany before taking up residence in Odense, where photographs of everyday landscapes and towns taken from the train, which did not feel to her particularly dissimilar to the places she was leaving behind, became the starting point for retracing her journey in a cyanotype series and the self-portrait My way to home. After arriving in Ireland in July to start his residency at Cork Printmakers, Antony fell ill with Covid and had to isolate before having the chance to start working in the studio. His period of recovery, spent alone in an apartment, inspired a sequence of 26 small prints forming a narrative about this experience through his Covid fever dreams: a mixture of traumatic flashbacks to the war in Ukraine mixed with him trying desperately to contact his beloved granny, still in Ukraine, by Whatsapp.
Several projects in the exhibition function as sites for re-configuring notions of self-identity, or loss thereof, as artists uproot to new locations. Thaís Muniz (Brazil-Ireland)'s installation New Atlantic Triangulations visually negotiates her passage through different territories, becoming an autobiographical reflection of her experience of being a Brazilian person with a strong African heritage who recently was granted Irish citizenship. Through making this multi-layered work, printed in sheets of black chiffon, Muniz deepens her own questions on the sense of home, replacement and mental health according to these territorial overlaps, and the fake notions of choice that capitalism plays historically. Delving into her own embodiment of different identities, Aqsa Arif (Pakistan-Scotland) presents a scroll piece screen-printed on the back of a richly patterned fabric, depicting a scene where the artist reimagines herself as a heroine from the Sindh folk tales of the Seven Queens, known for their bravery in the pursuit of their values. In vibrantly coloured portraits composed from multiple exposures of images of family members and friends within the Travelling community, Leanne McDonagh (Ireland) pays homage to an ever-changing community, recording a way of life that is slowly fading away. Reflecting on his experience of arriving in Denmark 8 years ago, two etched pieces by Rezan Arab (Syria-Denmark) are conceived by the artist as imaginary representations of the sense of isolation that he felt until he was able to adapt to his new surroundings. These etchings depict solitary figures assembled in stark scenes that recall traditional orthodox icons in their composition.
Explorations of distance as a constitutive element of kinship run side by side with intimate conversations and collaborative projects initiated by artists where they now live. Francisco Tomsich (Uruguay-Slovenia)'s silkscreen portraits Signs For Those Who Are Far Away, printed first on paper and subsequently onto mirrors that are exhibited in the gallery as sources of light projections, have originated from acrylic drawings made live during Zoom posing sessions where the artist met with close friends living far away, becoming multi-media exercises on reflection. Paria Goodarzi (Iran-Scotland) observes her changing relationship with her mother in an etched diptych, capturing partial views of their heads seen from the back with their hair rendered in close detail. Single threads of hair from both women softly interrupt the printing process at different points, with a screen-printed background based on a pattern from Paria's Home Office travel document populating the edges of the images as an elusive in-between space. In Ceyda Oskay (Turkey-Ireland)'s installation Wheat Sounds, images, music and garments emerge from a suitcase. Continuing her on-going meditation on fleeing and what you bring with you, this project was made collaboratively with a young migrant music group in Cork and began with the artist proposing to make a song together about wheat sent by the Ottoman Empire to Ireland. Najma Abukar (Somalia-Scotland)'s lyrical screen-printed portraits of women are built on intimate dialogues with her subjects, exploring the theme of love. Weaving photography, visual arts and storytelling, these works convey the emotional layering of the experiences shared by these women and Najma's close connection to them.
Personal and political dimensions intersect in two striking works by Arafa and The Dirars (Sudan-UK) and Wiktor Zwolskyi (Ukraine-Denmark), drawing attention to the enduring experience of war in today's world. A master lithographer living in Kharkiv, where he taught printmaking for decades prior to the escalation of the war in Ukraine, Wiktor's allegorical piece The War, made during his residency in Denmark in direct response to the conflict, shows a spirited archer riding a horse against a dramatic backdrop, his bow pointed into the sky. Our Invisible Scar by the Sudanese arts collective Arafa and The Dirars, re-constructs a scene from a Libyan village, seconds after an explosion has occurred, the sky covered in yellow and orange flames. Over this surface, the artists have applied small print blocks by hand, each depicting a different figure witnessing the blast, their bodies distorted by horror and grief. One of them is a child, whose face resembles simultaneously a wave caused by a bomb and a rose, evoking both life's fragility under war and the artists' demand for a peaceful future.
The concept of home, both in relation to the redrawing of boundaries of belonging across time and space, and as a localised set of meanings, is explored by Lina Rica (Croatia-Slovenia), Amir Zainorin (Malasyia-Denmark) and Barbara Miše (Croatia-Netherlands). Lina's Shitf Map is a three-dimensional spatial model that represents the idea of a modular and changeable home as current residence and perception of the world, fused with memories, emotions, plans and expectations. Amir's conceptual installation Home, made of small silk screen prints where pages from an old atlas are overlaid with short blocks of text, situates the notion of home in between physical and virtual worlds, as a fragile collective space being performed through shared identity and a sense of being connected. In three digital collages titled Postcards from home, Barbara experiments with the technical possibilities of various materials applied in different stages of the etching process, and how to let go of control. Having lived in seven different cities over the past ten years, these dream-like landscapes are personal reflections on her process of adaptation to a new environment, how much of 'home' she carries with her and how her identity is shaped by new surroundings.
Artists selected by MGLC:
Lina Rica (residency in April 2022)
Lina Rica (1980, Makarska, Croatia) is an intermedia artist working in the field of installation with video, printmaking, photography and animation. Her work deals with the social processes of past and present worlds, and their influence on the contemporary individual. She obtained her master's degree from the Academy of Fine Arts in Zagreb in 2008. In 2012, she launched the artist-run project GaleRica. Since 2010, Lina has been performing at various venues, combining real-time generated animations with captured and live videos. Together with other artists, she formed the audiovisual acoustic and electronic noise ensemble Marta Fakuch in 2019. From 2020, she is part of the audiovisual trio Etceteral. She lives in Ljubljana.
The artist, who knows the challenges of moving from her own experience, is working on the topic of home during her residency as part of the In from the Margins project. Home can be understood not only as a physical place that an individual owns and belongs to but represents a localised set of meanings. Lina has created a three-dimensional spatial model that does not follow the logic of practical, applied architecture, but rather represents the idea of a modular and changeable home. This follows a conceptualisation that goes beyond a one-sided definition – here the home represents the origin, current residence, descent or perception of the world and space, fused with memories, emotions, plans and expectations.
Maja Živko (residency in May 2022)
Maja Živko is a young artist born in Sarajevo, Bosnia and Herzegovina, in 1997. She graduated from the Department of Printmaking at the Academy of Fine Arts in Sarajevo, before continuing her studies at the Academy of Fine Arts in Ljubljana. In recent years, she has been exploring the concept of liminal space in her own vision as well as the meaning of people in certain spaces through the feelings she experiences in daily life around certain people and the meaning and influence these people have on the space she feels deeply connected to.
At the In from the Margins residency Maja's month-long exploration of the subject in the intaglio techniques resulted in six final prints each representing different perspectives on the space. The technique is combined, resulting in different textures and depths of the final print. The artist used different types of printmaking techniques on the same plate and combined two or more plates on each print, with the final result of six versions of the print with changing perspectives and motifs. Prints are divided in two cycles. The first cycle (presented here at EP) is brighter in colour, and the motifs are more enhanced. The second cycle is darker with more abstracted motifs and more depth in space.
Azadeh Hashemzadeh (residency in June and August 2022)
Azadeh was born in Isfahan, Iran, in 1988. She graduated in photography and worked from 2004 to 2011 in different companies as a photo editor, video editor, and photographer. In 2011, she opened her own photography company. In 2018, she moved to Slovenia with her husband to ask for asylum and in 2019 she received a permanent status, where she is attending courses of Slovenian and English language, interior design and cosmetics. As a photographer and photo editor she has worked with the City of Women, Slovenian Philanthropy and various other festivals in Slovenia.
Her exploration of printmaking techniques and the connection to her main discipline, photography, led her to create a series of experimental prints in different dimensions. In creating the final print, she drew on the verses of three great Persian poets of the Middle Ages. The motifs of a dancer taken from one of her art photographs, the text in Farsi and the graphic expression in the silkscreen technique combine here in a harmonious and lyrical way. Azadeh's works reflect her restless inner world, and the difficult situation she finds herself in as a person who has had to leave her home and find her own place elsewhere. Her works give her hope for a better world and show that the way there exists and is feasible.
Azad Karim (residency in October 2022)
Azad Karim (1954, Arbil, Kurdistan, Iraq) enrolled at the Institute of Fine Arts in Baghdad after completing secondary education. He came to Slovenia, where he enrolled at the Academy of Fine Arts in Ljubljana in 1976. In 1980, he graduated in painting, and in 1983, he obtained a master's degree in printmaking. In his art he combines his eastern and western experience of the world. His artworks are fraught with impressions and symbols from the two worlds, marked by the duality and synthesis of both. Azad Karim lives and works in Ajdovščina, Slovenia.
Azad Karim draws inspiration for his artistic creations from his roots. Although he has lived and worked in Slovenia for several decades, he is aware of the socio-political conditions and the vulnerability of the cultural tradition in his home country. All this has triggered his artistic reactions on more than one occasion. This theme has long been reflected in his paintings, prints, video works and installations, and has also marked the artist's residency at MGLC Ljubljana. During his residency, Karim created the opus of six prints in combined techniques titled Land of Hope. Each of his prints is a collection of fragments in which ancient civilisations meet on a symbolic level with his personal experiences with contemporary trends in the visual arts.
Francisco Tomsich (residency in November 2022)
Born in Uruguay in 1981, Francisco Tomsich is an artist and an author who graduated from the Faculty of Humanities in Montevideo. Since 2003, he has produced exhibitions, publications, stage works, research models and educational tools, working with different media, languages and tongues. He has co-founded and integrated many non-disciplinary artist associations in South America and Europe and participated in the 7th MERCOSUR Biennial (2009) and the 1st Montevideo Biennial (2012). Tomsich moved to Slovenia in 2014. Between 2014 and 2019, he was actively engaged in working with refugee and migrant communities in Slovenia and the Balkan region. He lives and works in Izola, Slovenia.
During his residency at MGLC Ljubljana, Francisco worked on the series of 12 portraits on paper and mirrors in silkscreen titled Signs for Those Who Are Far Away. The art project is a multimedia essay on friendship and distance based on extended portraiture practices and developed through an experimental approach to printmaking. For the artist, distance is a constitutive element of friendship. To develop the project, he invited about 20 friends who live far away (including Mexico DF, Buenos Aires, Montevideo, Skopje, Belgrade, Hamburg and Bologna) to pose for a portrait via Zoom, Google Meet, WhatsApp and Viber. Editions of prints on paper and mirror were done upon a selection of works that ended up being acceptable drawings and good portraits at the same time.
Qëndresë Deda (residency in December 2022)
Born in Prishtinë, Kosovo, in 1988 Qëndresë Deda graduated from the Academy of Fine Arts in Prishtinë in 2010 and later from the Video & New Media programme at the Academy of Fine Arts and Design in Ljubljana. Her works have been shown in several solo and group exhibitions in Pristina (L'Espace Culturel Francais; Tetris – Space for Manipulation; Traffic Gallery, Stacion – Centre for Contemporary Art, Art Gallery of Kosovo). In 2014, she had an exhibition at KC Tobačna 001 in Ljubljana, where she was a residence artist. In 2015, she had an exhibition at Villa Romana, Florence, also a part of artist-in-residence program. In the same year, her works were part of the 31st Biennial of Graphic Arts in Ljubljana. She is a two-time finalist of the Artists of tomorrow Award (Stacion – Centre for Contemporary Art, Pristina). Deda is actively involved in the local independent art scene in Ljubljana and works with the festivals Red Dawns, City of Women and SCCA Ljubljana.
In her practice, Deda combines different media, from photography, drawing, writing and design, to video, often taking on the role of an object and a subject simultaneously. She intertwined personal writings, poetry and graffiti, questioning identity, freedom and restrictions that are imposed on people in present-day society. Although her works appear to be very personal, intimate even, she deals with the phenomena of her immediate surroundings, as she describes it. During the residency, Deda created a huge production of T-shirts, prints, board game cards and costume with the title Wear Your Worry, We Are Our Worry. She dealt with the idea of how we see ourselves and our worries and how we see the worries of others, which is an attempt to bring closer intimacy and communication between each other. The residency ended with a discussion event, which aims to establish a safe space for talking about worries.
Uprooted Visions and the In From the Margins project have been made possible with the support of the Creative Europe Programme of the European Union. Additional support provided by: City of Edinburgh Council, The National Lottery through Creative Scotland, Arts Council of Ireland, Ministry of Culture of the Republic of Slovenia and the Embassy of Slovenia in London. The exhibition is kindly sponsored by StayCity.
Uprooted Visions, 2. 4–2. 7. 2023, Edinburgh Printmakers (Castle Mills 1 Dundee Street, Edinburgh, Great Britain)
Artists
Azadeh Hashemzadeh, Azad Karim, Francisco Tomsich, Maja Živko, Qëndresë Deda, Rezan Arab, Arafa and the Dirars, Aqsa Arif, Mohammad Barrangi, Paria Goodarzi, Naila Hekmat, Irynka Gvozdyk, Diaa Lagan, Leanne McDonagh, Anastasiia Melnykova-Blidar, Barbara Miše, Thaís Muniz, Ceyda Oskay, Antony Reznik, Zory Shahrokhi, Kateryna Svirgunenko, Amir Zainorin, Lina Rica, Wiktor Zwolskyi, Dareen Abbas, Najma Abukar, Mousa AlNana, Shatha Altowai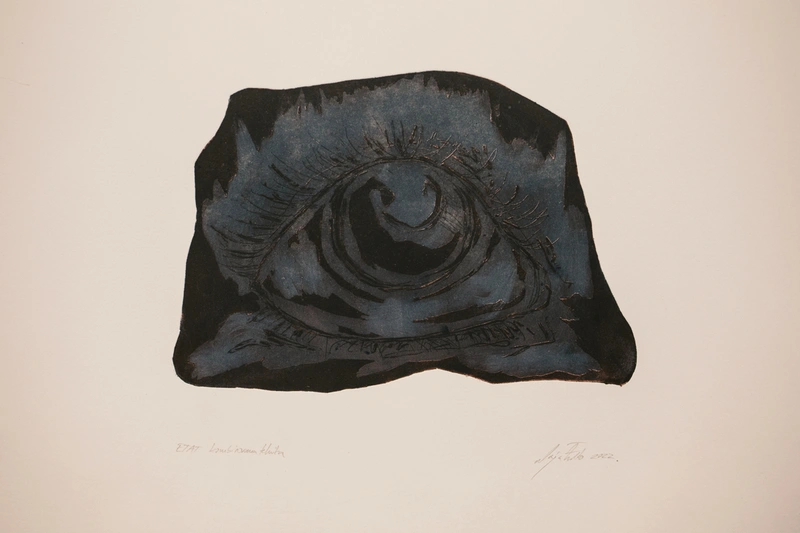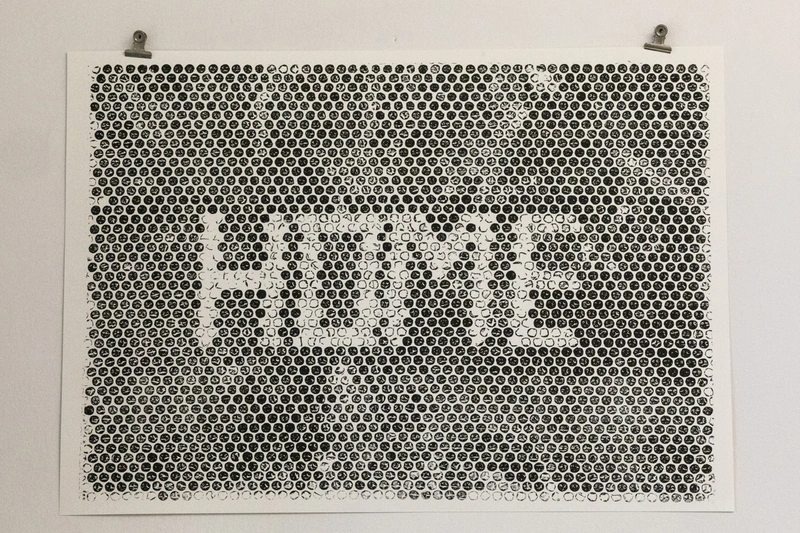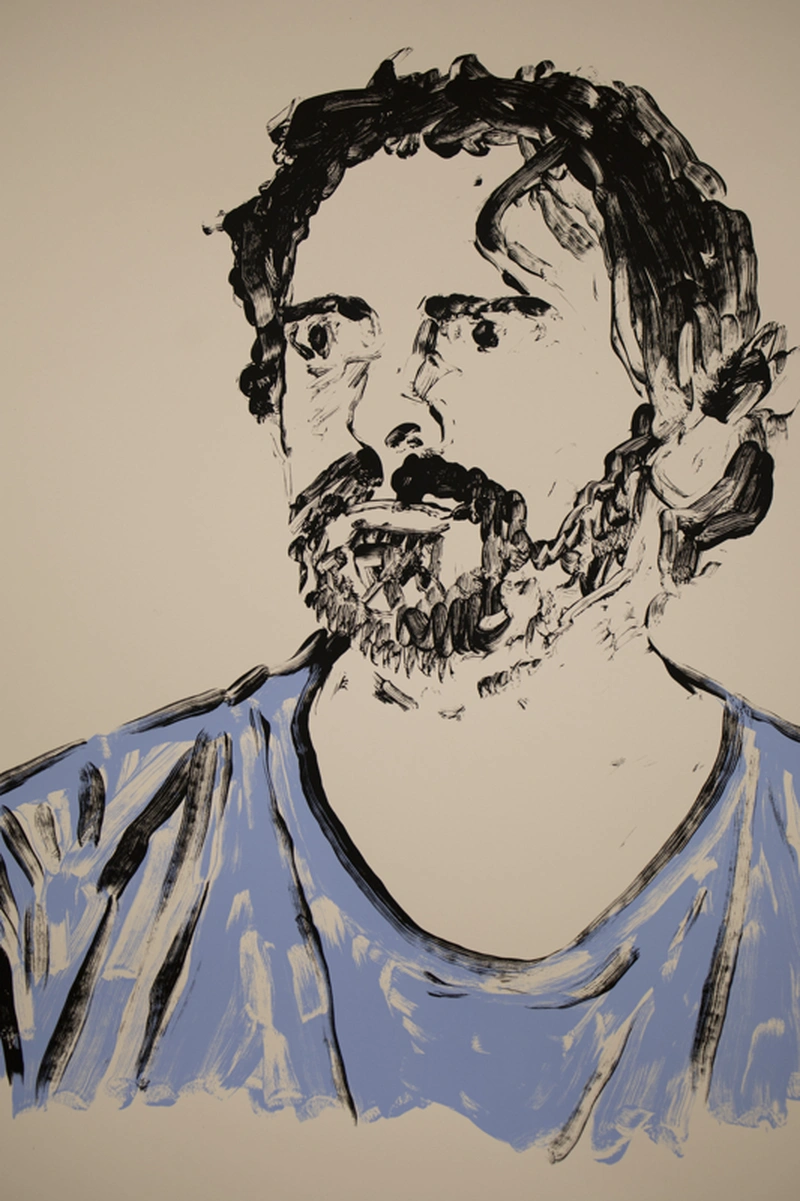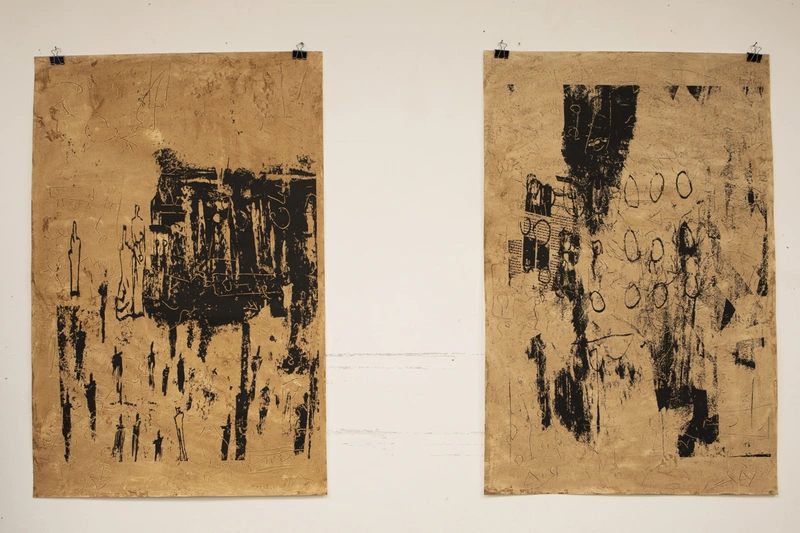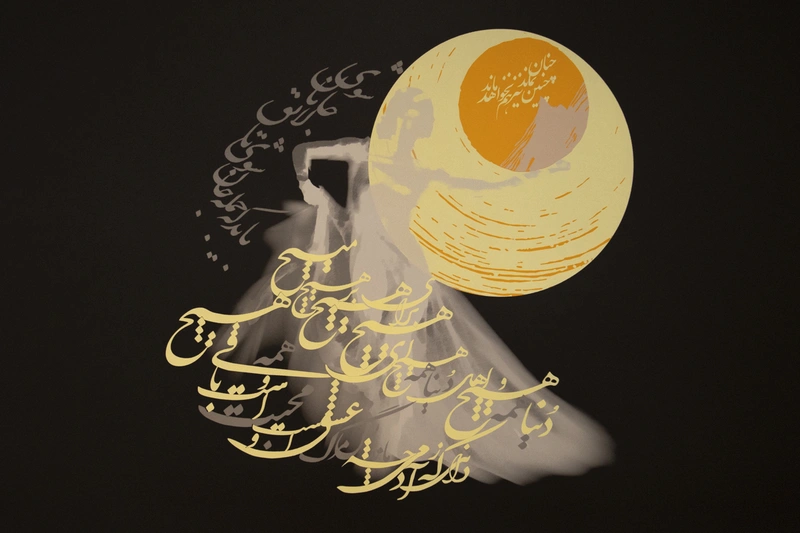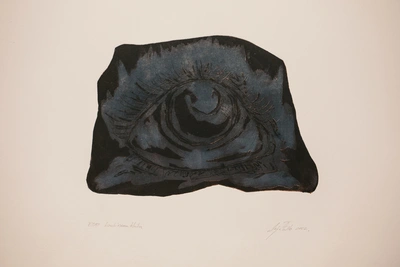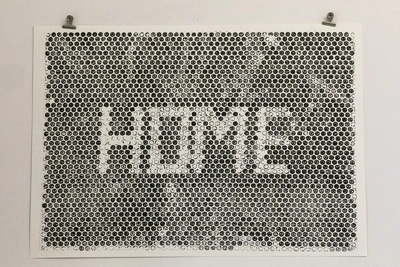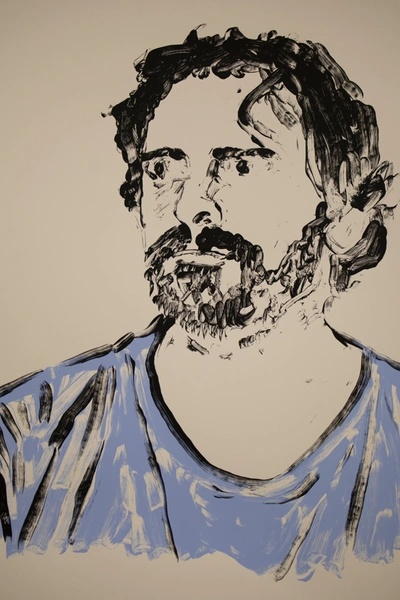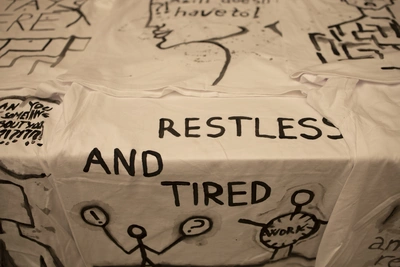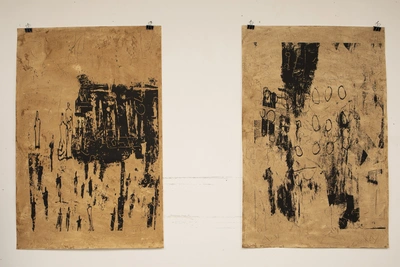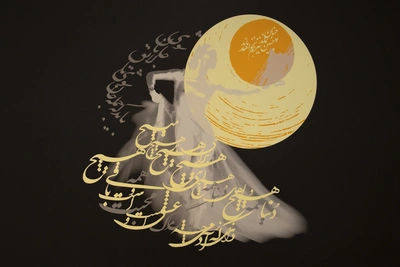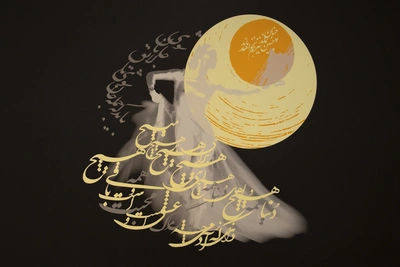 ---
Installation Views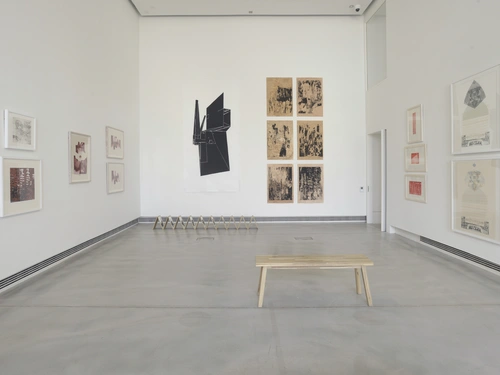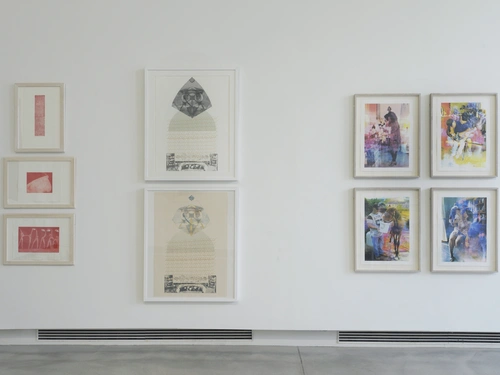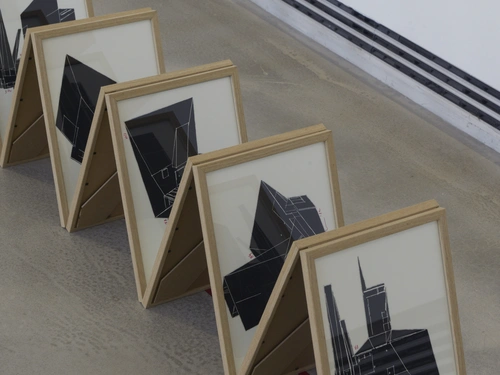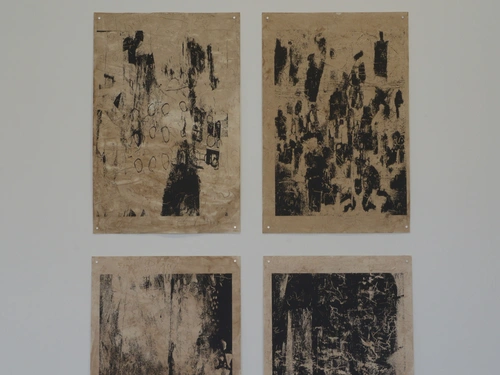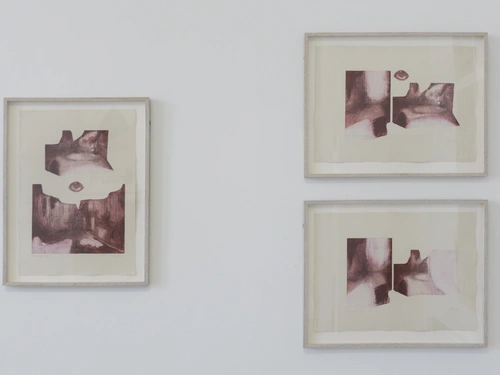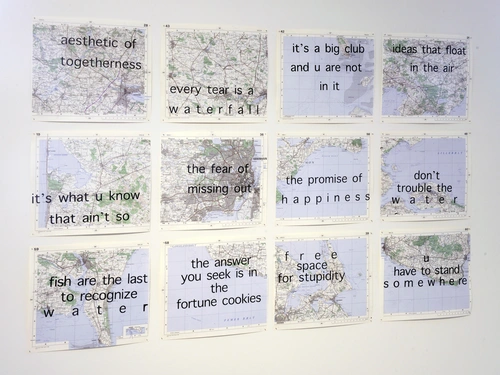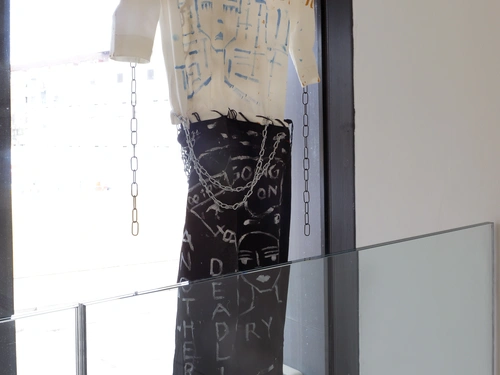 ---
The Studio as a Sanctuary (presentation of artists as part of their residencies in Ljubljana, 2022)
---
Other exhibitions