17. 6. 2023
9 p.m.

MGLC Švicarija
Admission free
The Summer Museum Night 2023
Anbot in Concert
Artistic direction: Aldo Kumar
Anbot band lineup: Aldo Kumar, accordion, Peter Jakša, guitar, Peter Jud, violin, Nino de Gleria, bass guitar, Janez Pirc, cajon, percussion, Peter Beltram, flute, Iztok Smeh, clarinet, Tomislav Čizmić, vocals, Janez Vlaj, violin, Miran Mohar, mouth organ, percussion, Aljaž Rendla, clarinet
Guest of the evening: Natalija Radić, vocals
On Summer Museum Night, Saturday, 17 June, the Anbot music group will perform on the stage of MGLC Švicarija, under the artistic direction of composer Aldo Kumar. The band never fails to impress with its unique programme, which includes a combination of different musical genres that can rarely be heard in a live gig anywhere. In recent years they have performed at various concerts and festivals across Slovenia and in Croatia (Cankarjev dom, Music of the World Festival 2021 – Kromberk Castle, Hidden Courtyard – Murska Sobota, Ethno Rock Festival – Domžale, Cukrarna Gallery – Ljubljana, Neighbour's Day at Križevniška – Ljubljana, Concerts at Špina – Izola, Jazz Festival – Piran, Bol Summer Festival – Brač), and in 2020 they also appeared on the programme Prva vrsta on Radio Slovenia 1.
This time, Anbot will present a new programme of songs alongside their hits, accompanied by guest singer Natalija Radić.
Anbot was founded in 2012 by Aldo Kumar, who has since led the band, in which he plays the accordion. The band is made up of a variety of musicians with different musical backgrounds and, above all, different professional roles; in addition to professional musicians, members also include a translator, a judge, a director, a visual artist, a TV producer ...
Anbot's repertoire includes songs from the Balkan nations (Macedonia, Bulgaria, Romania), but also many Klezmer pieces, i.e. music that comes from the Jewish tradition and is found in the countries of Eastern Europe. Italian film themes are also part of the programme (Fellini – Amarcord), as are Irish and French folk motifs, old Latino hits and many other songs that evoke a feeling of nostalgia with their melodic impulses and paint the landscape of a time when live music still connected people with the warmth of its expressiveness. The Anbot band (its name comes from the Istrian expression for "once" or "once upon a time") consists of accordion, violin, flute, clarinet, guitar, bass guitar, cajon and mouth organ.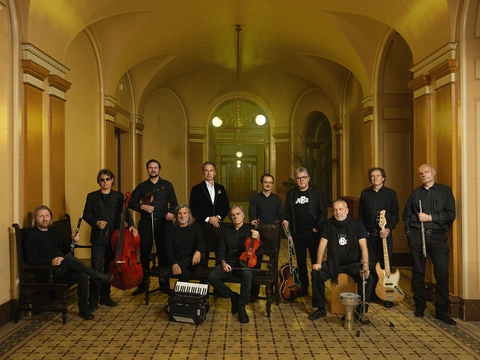 ---
Upcoming events