Milton Glaser: Dylan, Alan Heller Pasta Furniture, Bach
Collection of Art Publications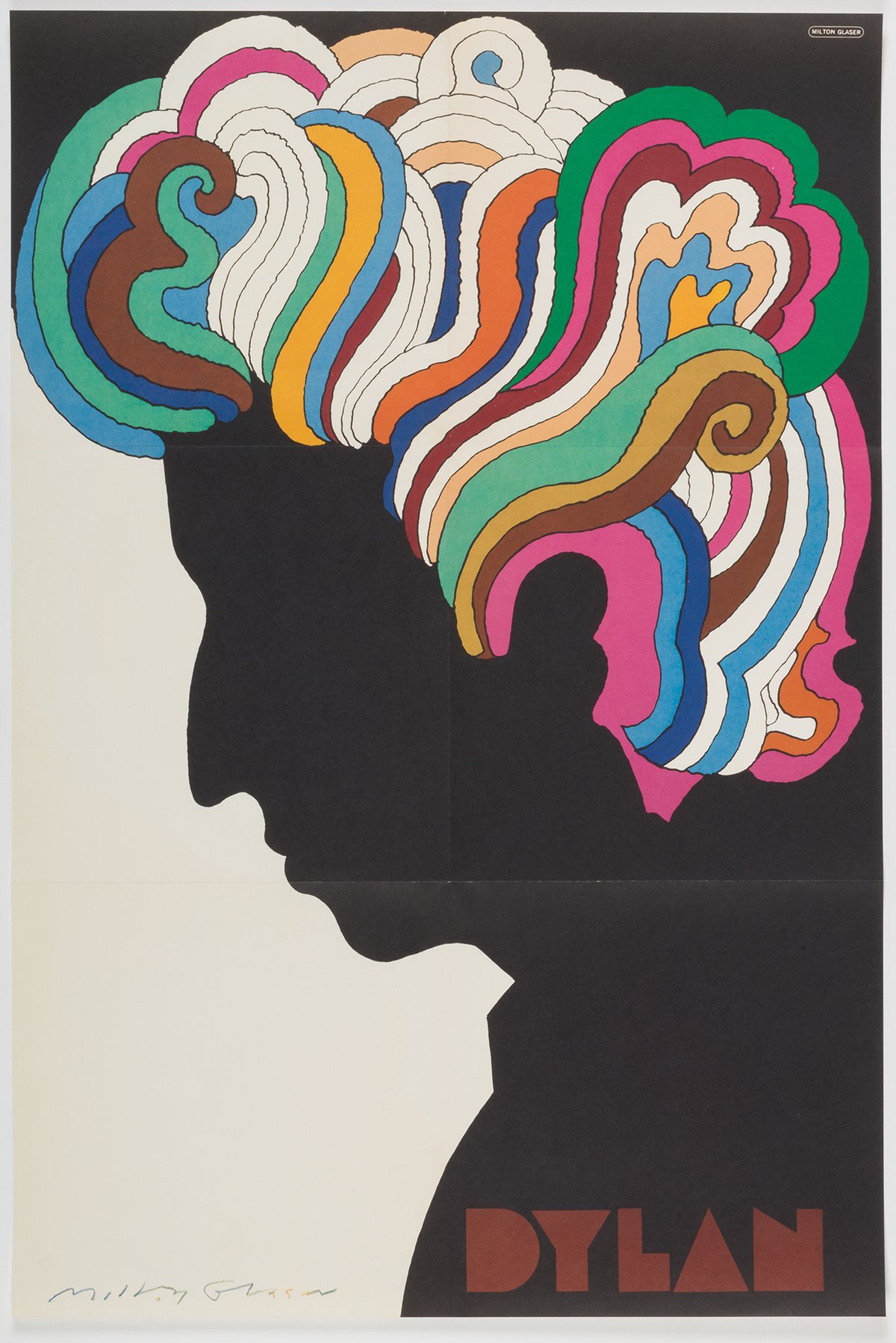 Milton Glaser, Dylan, 1966, ofset. Photo: Jaka Babnik. MGLC Archive.
Milton Glaser, Dylan
The story of this poster, which was an insert on Dylan's 1967 album Bob Dylan's Greatest Hits, goes as follows. After suffering serious injuries in a motorcycle accident in 1966, the singer-songwriter Bob Dylan was bedridden and rumoured to be dead. To generate positive publicity for his forthcoming album Bob Dylan's Greatest Hits, CBS Records commissioned Milton Glaser to design a special poster to be included with the album. Glaser depicted the singer in profile, with his abundant curly hair rendered in saturated colours that stand out from the background. The intense, almost psychedelic colours can also be seen as the spirit of the time and the flower power generation from the second half of the 1960s.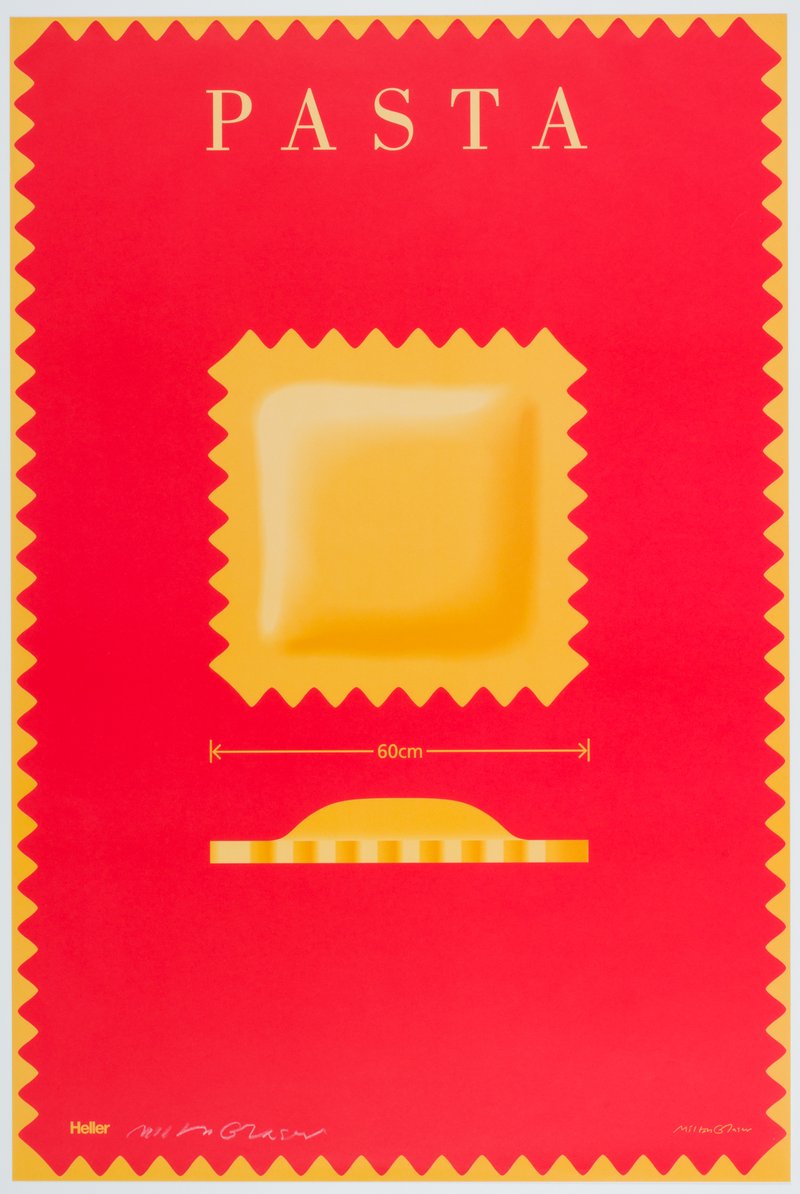 Milton Glaser, Alan Heller Pasta Furniture
At first glance, this two-colour, visually minimalist poster is an advertisement for a new type of ravioli. But it quickly becomes clear that the scale indicating the size of the "ravioli" is 60 cm. This is actually an advertisement for a new line of plastic, noodle-shaped pillows by Allan Heller. Heller is one of the leading furniture manufacturers in the world. He is most notably credited with bringing Italian design to the United States through his eponymous Heller company.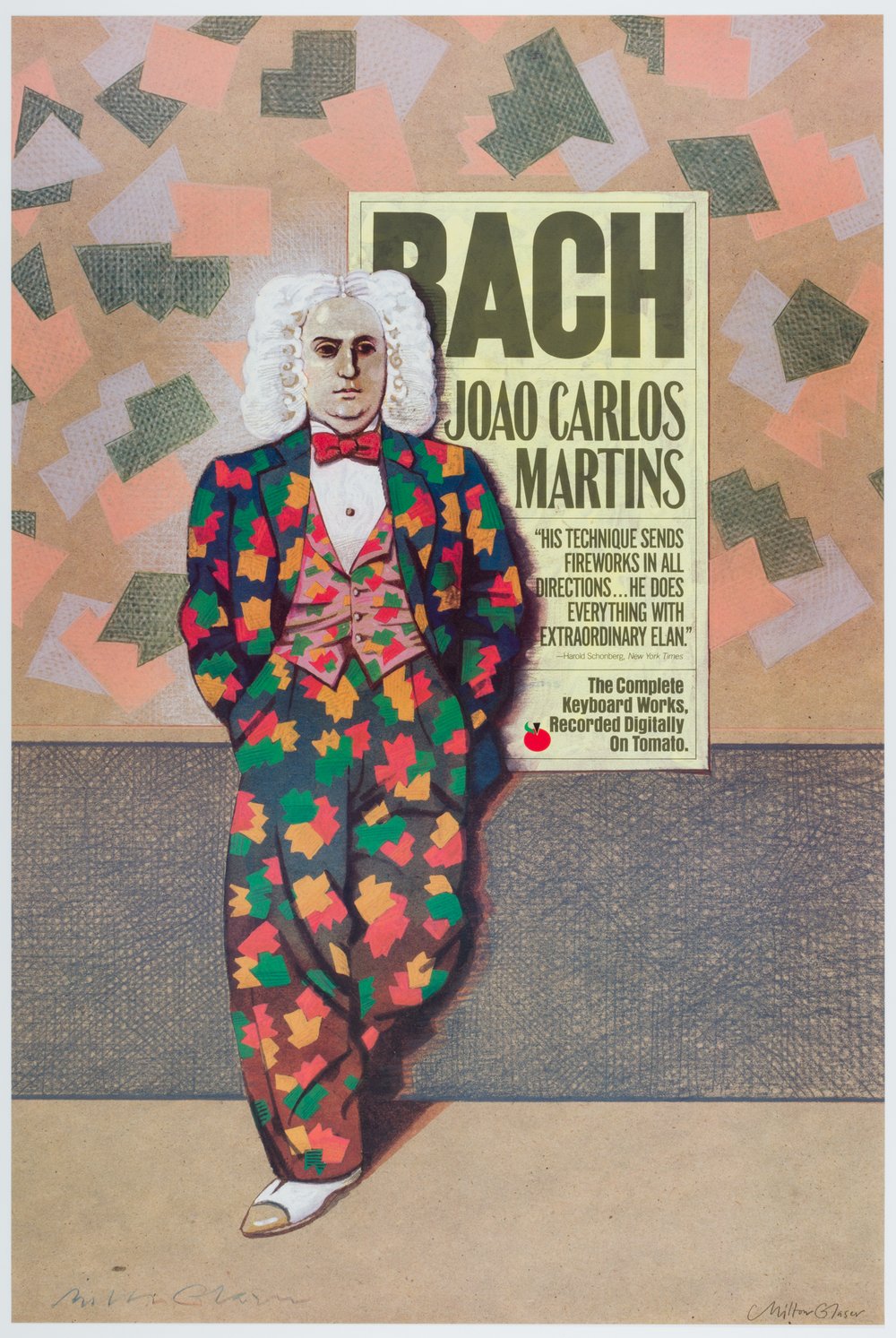 Milton Glaser, Bach in a Fugueing Suit
The poster, featuring a contemporary image of the composer Bach in eccentric attire, was created for Tomato Records. From the title, we can infer that the artist derived the concept from the components of the fugue, the very musical form that Bach mastered in his Baroque compositions. In the fugue, the voices begin one after the other, imitate each other, and then combine in various more or less complex ways. Glaser tried to interpret this in the pattern of the suit and on the wall. The pattern repeats but becomes larger as it moves from the vest to the suit to the wall. The artist said this about the poster, "... it shows Bach as I imagine him looking today. An eccentric fellow but with a lot of flair."
From the collections